Black Republicans do exist in Chicago. We unfortunately don't hear much about them because they don't hold a lot of sway in Chicago or in Illinois. They are pretty much their hopefully due to their dedication to being a Republican and representing their wards for their party.
In any case this image is courtesy of the Illinois Leader. The white man you seeing standing amongst them Cook County Commissioner Tony Peraica, is seeking to run against County Board President John Stroger, who is a Democratic Commiteeman, just like these guys in the photo, for the 8th Ward Democratic Organization.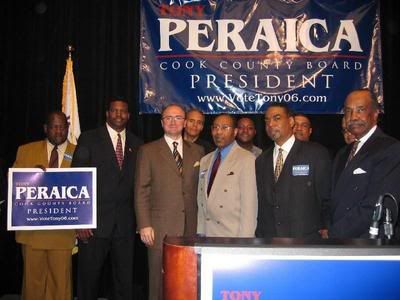 Caption of this photo is from Illinois Leader:
Peraica pictured with a large contingent of the GOP's black ward committeeman who showed up to lend their support.
Click here for the larger
photo
.
Click here for the Illinois Leader
article
.