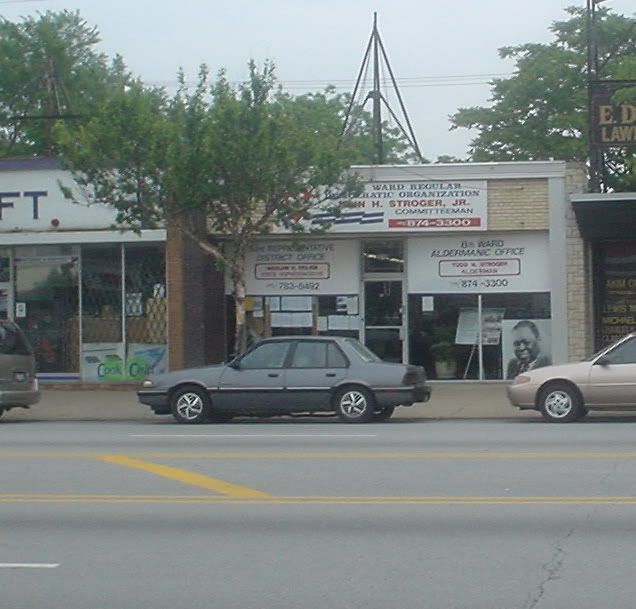 Last week I was on Cottage Grove Avenue and I took a picture across the street from the HQ of the 8th Ward Democratic Organization. This is as I've seen in some articles that I will link to at the end of this post an old school political organization. This isn't done in my ward and it seems that most other wards don't have an organization to speak of.
In one article they talked about campaining for the 2000 Democratic nominee Al Gore just before election day. In another article they were talking about the 8th Democratic Committeeman John Stroger. That's another story.
John Stroger is a Cook County Commissioner as well as the County Board President. He's been the 8th Ward Democratic Committeeman since 1968 (A committeeman is an elected position, he is on ballot during the presidential primary in Illinois. All 50 Chicago wards are represented by a GOP or a Democratic committeeman), on the Cook County board since 1970, and President of the Board since 1994. . Mr. Stroger is in his 70s recently suffered a health crisis last year and since his reelection is next year may retire next year opening the door for ambitious candidates.
So what would happen to his commissioner's seat, the county board presidency, and the 8th ward democratic organization? These are some interesting questions but there is at least one that I know of who is running for the county board presidency and he's GOP and Republicans don't do that well in the county. As for everything else that's another question.
Currently, the 8th Ward is represented on Chicago's city council by Stroger's son Todd. He was a state senator but was appointed the 8th Ward Alderman in 2001 following the death of the incumbent Alderman Lorraine Dixon. What move would he make should his father retire?
Also I should mention the surrounding communities. The 8th Ward has some affluent black communities in the city of Chicago. Stroger himself lives in the Pill Hill neighborhood which is a very affluent neighborhood full of fancy single family home. It also is home to part of the Chatham and Avalon Park neighborhoods. These are some solidly stable and middle class communities with primarily black residents.
Also John Stroger has taken heat for issues during his long career. First, in 1983 during the mayoral primary he endorsed the current Mayor Richard M. Daley for his party's nominee instead of the eventual winner Congressman Harold Washington. I have no doubt he took heat for that but he was seen as a loyal party man. In Chicago race or ethnicity unfortunately defines your politics.
And secondly is the political patronage. There has been a battle on the county board regarding the pork in the county and some of this I'm sure is regarding the personnel. If you live in the 8th ward or in his commissioner's district or you're close to Stroger there is a strong possibility that you may just get a job in the county. It has been found that there are plenty of county employees living in the 8th ward. Of course patronage is a county wide problem in that there have been calls to abolish certain county offices such as the County Recorder.
Regardless this is a powerful organization with a means of getting out the vote. There really isn't a GOP equivalent here, but that's not uncommon in most of the black areas. And it certainly helps a political organization if your leader just so happens to be a powerful elected official.
LINKS
John Stroger bio from The History Makers
8th Ward from the Medill News Service 11/02/2000
Quigley sees opportunity in Stroger-Sheahan fued by Russ Stewart 11/12/2003