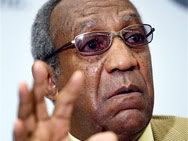 Within about the last month or so that Bill Cosby has become the subject of a sexual misconduct allegation. There was a recent
article
from ABC news that has shed light on this. Bill Cosby during the past year has been making comments critical of how black parents raise their kids today.
The allegation is that Bill Cosby gave this woman a drug that knocked her unconscious and Mr. Cosby proceeded to fondle her. While it is not uncommon to delay reporting this crime, the timing of this allegation should be seen as suspicious because of Mr. Cosby recent outspoken activity and the fact that this event occurred early last year and happened at his Cheltenham, PA mansion.
Not to say that I don't believe it but I'd rather treat this with a grain of salt. As I believe everyone should. Hopefully some semblance of the truth will come out.