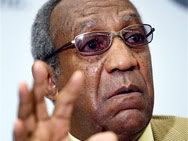 Every now and then I have a pic for my profile. It changes from time to time. At one time the picture was of Johnson Publishing owner the late John H. Johnson. At another it was Star Trek:Deep Space 9 Captain Benjamin Sisko. Recently it was of Civil Rights leader the late Dr. Martin Luther King Jr. (he's a Morehouse Man too folks). Another time it was an interesting photoshop image some mind not like too well and in the interest of goodwill I'm not posting that here.
Recently I changed my profile image to another prominent black, Bill Cosby. I don't really watch the Cosby but that it the type of show I'd like to see. Nothing silly it was just real more than any other family oriented black show out there today. Not slapstick or anything like that just a story of a very educated well to do family. I would like to imagine The Cosby Show as a drama more than a sitcom. Perhaps it's a good thing it was a sitcom.
Lately Bill Cosby has been in the news for the past year or so crusading on the issue of bad parenting. He directs it mainly towards black parents but one could observe that this is a class thing which cuts beyond race/ethnicity. The way I see it he may be the only person addressing or at least giving lip service to an issue like this particulary as it goes in the black community. I just hope there will be others who will see the big picture on this issue.