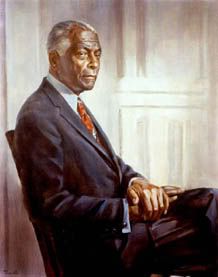 I attend the school he used to run from 1940 to 1967. During his Presidency at Morehouse College the school became what it is today. There are many complaints about the school as it is today and it might thanks to who runs it now. I try not to complain much though, I am where I want to be and while it is hard and tough, I shall hang tough and hopefully I'll live up to the legacy.
In any case I found this essay in a classroom when I waited to start class.
"The Negro, I am convinced, is the white man's obsession."
-Dr. Benjamin E. Mays--President Emeritus of Morehouse College
Dr. Benjamin Elijah Mays was very influential in the Christian ministry and American education. He is remembered for his outstanding leadership and service as a teacher, author, mentor, scholar, preacher, and activist in the civil rights movement.
Dr. Benjamin E. Mays was born August 1, 1894 near Epworth, South Carolina. He served as pastor of Shiloh Baptist Church from 1921-1923 in Atlanta, Georgia. Recruited by Morehouse President John Hope, Mays would join the faculty as a mathematics teacher and debate coach. He earned a master's degree in 1925. In 1935, he obtained a Ph.D. from the University of Chicago. Later in 1934, he was appointed dean of the School of Religion at Howard University and served there until 1940.
He became president of Morehouse College in 1940. At Morehouse College, one of the country's leading black educational institutions, he launched a 27-year tenure that guided the institution into international prominence. He upgrade the faculty, secured a Phi Beta Kappa chapter, and maintained enrollment during wartime America. His most noted forum was on Tuesday morning at Chapel at the historic Sale Hall. At his important historical event, he challenged and inspired the students to excellence in scholarship and in life. One of Morehouse's most distinguished graduates,
Dr. Martin Luther King Jr. '48
, remembers Dr. Mays as his "spiritual mentor" and intellectual father."
Upon his retirement, he served as president of the Atlanta Board of Education form 1970 to 1981. He received 56 honorary degree's, including a posthumously awarded degree from Columbia University. He published nearly 2,000 articles and nine books. Dr. Mays was also widely noted on his disagreeing stance on segregation, and the speeches he made against it. Benjamin E. Mays was among the first generation of people of color to be born into freedom in the southern United States. In 1926, he married Sadie Gray, a teacher and social worker, who dies in 1969. Dr. Mays dies in 1984. Dr. Benjamin Mays will be long remember in history for his relentless and robust dedication to education, his robust stance on equality, and domineering values of excellence.