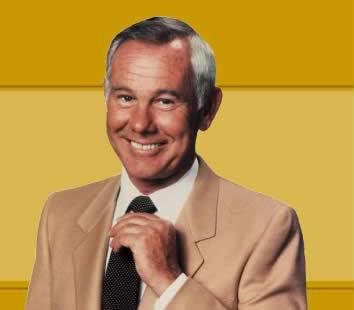 Over the weekend Johnny Carson
passed
away.
I barely remember the Tonight Show under him. I know it existed but when I was younger I can't say it interested me much. As I recall looking through some old VHS tapes within the last couple of years my dad had recorded an episode of Johnny's Tonight Show perhaps when I get the first opportunity I should digitalize it and keep it archived.
In any case I recall that during the late 90s or so they showed some of the funniest Carson bits from his 30 years as host of the Tonight Show. They made me laugh and I suppose that I wished I had been there to experience them as so many have been able to. It's hard to believe he was host for 30 years no one can have that much staying power today. I mean no one.
Finally last night on Johnny's show the current host Jay Leno paid tribute to him. He had some people who were on during Johnny's era. Mainly Ed McMahon who was Johnny's side kick, Don Rickles, Bob Newhart, and Drew Carey who got his first taste of national exposure on Johnny's Tonight Show. It was a good show from Leno for a change because I don't care much for him he didn't have to tell any bad jokes or any other bad gags. I did enjoy the clips of Johnny from his 30 years as host. They were hilarious in many ways.
Well Johnny's gone and I hope what he achieved here will not go unnoticed in the next life.